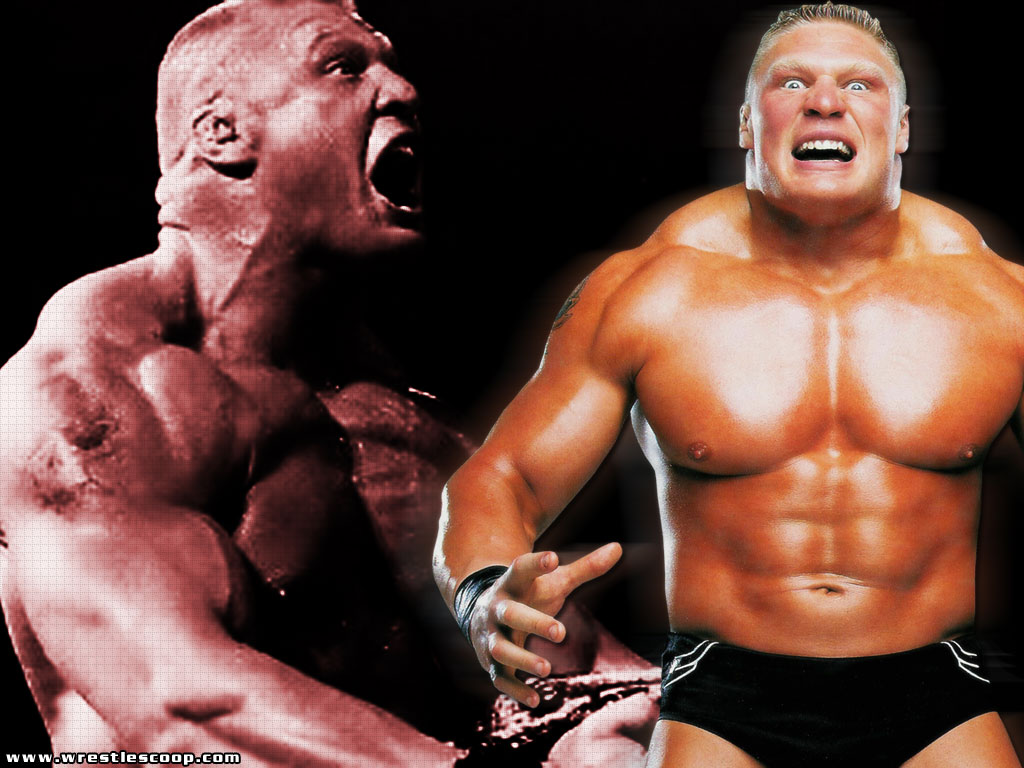 Brock Lesnar takes on Alistair Overeem at UFC 141 on December 30th. It's MMAzing will be taking a deeper look at both of these fighters leading up to this epic battle of giants. We brought you Alistair Overeem earlier in the week, and now we introduce you to former UFC Heavyweight champion, Brock Lesnar.
Having grown up a pro wrestling fan like many of today's current MMA fans, I will always remember the day I heard about Brock Lesnar. Word on the street was there was this behemoth of a man, who was fast, agile, and could pull off a shooting star press as his finishing move. Think an inverted backflip off the top rope for those of you not familiar.
Brock's stint in then WWF and now WWE would be short-lived, but not before he left his mark being this unstoppable monster. An attempt at defensive line for the Minnesota Vikings in the NFL would follow before Brock had found his home in the world of MMA.
Brock made his MMA debut in June of 2007 against unheralded Min-Soo Kim for Dynamite!! USA where he dispatched him rather easily by way of tapout due to strikes. For his next fight, Lesnar would debut in the UFC, and just three fight later be crowned the heavyweight champion of the reigning promotion in the sport. Brock's ascent up the sport was astronomical, something that had never been seen in the sport before. By far, Brock in an instant became must see tv, proving to be the UFC's biggest pay per view draw. You had a mountain of a man who spit on cameras, flipped off the fans, and pissed off the advertisers. Whether you loved him or hated him, you had to see what this guy was going to do next. Sure enough though for such a polarizing figure, the faster the rise, the harder the fall.
Lesnar has been many thing and many names to people over the years. He was "The Next Big Thing," "The Silver Back," "The Modern Day Viking," and for a moment in time he was considered the baddest man on the planet, the freak athlete giant that was going to change the game. Supposedly, no longer could you be a heavyweight if you weren't cutting to the 265 limit. But then, diverticulitis set in for the Champ, as he was repeatedly sidelined by the ailment. Then he looked mortal in his fight against Shane Carwin, turtling up, and merely surviving a barrage of ground and pound from Carwin, before securing his win in the second round via arm triangle. Then came an utter obliteration by Cain Velasquez who dethroned Brock of the heavyweight crown. Suddenly Brock was no longer the monster, but the guy with no chin, the guy who can't take a punch, the guy who was fast tracked to the title and given an easy road.
Those mantras are all non-sense however, because if Brock Lesnar was given anything, it was a baptism by fire. His first five UFC opponents consisted of Frank Mir, Heath Herring, Randy Couture, Shane Carwin, and Cain Velasquez. Many unfairly take credit away from a man where nothing but credit is due. I will not lie and say Brock is the invincible freight train we once thought he could be, as the luster and shine certainly has come off. And certainly, Alistair Overeem's greatest strength appears to reflect Brock's most obvious weakness. However, in Brock you will always have a man who has massive power and speed for the division, a D-1 national heavyweight champion crown to his name, and a resilient and tough sob. Through multiple bouts of diverticulitis, and surviving a barrage of likely the heaviest hands in the sport, maybe Brock does not react best to how you would like to see someone getting hit by sledgehammers, but no doubt can the man survive and persevere.
Brock vs. Reem represents the time-tested MMA tale of the grappler vs the striker as a champion wrestler will battle with a champion kick boxer. Will Brock be able to withstand some of the best stand up in the division? Will he be able to take down and demolish via vicious ground and pound said foe? Soon enough we will know the answer to the question of is Brock the man we thought he was, or is he the subdued man we have known him to be as of late? It remains to be seen if Brock can climb the mountain he ascended so quickly once more, but there is no doubt he has the resiliency to get there.