Coming at you this Saturday will be a Visa ravaged fight card live, from Hollywood, Florida. Originally, this event was supposed to take place in Brazil, and was supposed to be the showcase for the finale fights of the most recent TUF Brazil season. The card has since taken numerous changes, but rather than bore you with minutia of what we don't have, let's get to the meat of what we do have.
Lyoto Machida vs Yoel Romero
Yoel, is that you? via comicvine.com
In a sea of weird issues and fight reshuffles, at least we get a decently awaited matchup of two really talented middleweights. If you've listened to our show, you know Bobby and I have a man crush on Yoel Romero based not so much finding him some wonderfully handsome man, but just being in sheer awe of his stature and physique. One last time let me paint the picture of when we met this man. Walking down a hall, in a skin tight $5,000 suit, with a cane, with a sweet fedora, with a modelesque busty blonde woman cuddling his arm, was Yoel Romero with the swagger of the Godfather himself, looking like he was about to burst out of his clothes like he was mid-transformation into the Incredible Hulk. This is a very long-winded way of saying I instantly became a fan and have been on the Yoel ride hoping to see him get a crack at the belt. However, in spite of the worst showing of his career, I refuse to believe Lyoto is finished. He is still the toughest fight of Chris Weidman's career. So while I won't be disappointed one bit if Yoel's ascent continues, I think Lyoto is still in the upper echelon of the division.
Lyoto by TKO.
Machida: Kid P, DJ Mark, Dr Law
Romero: Gooms
Santiago Ponzinibbio vs Lorenz Larkin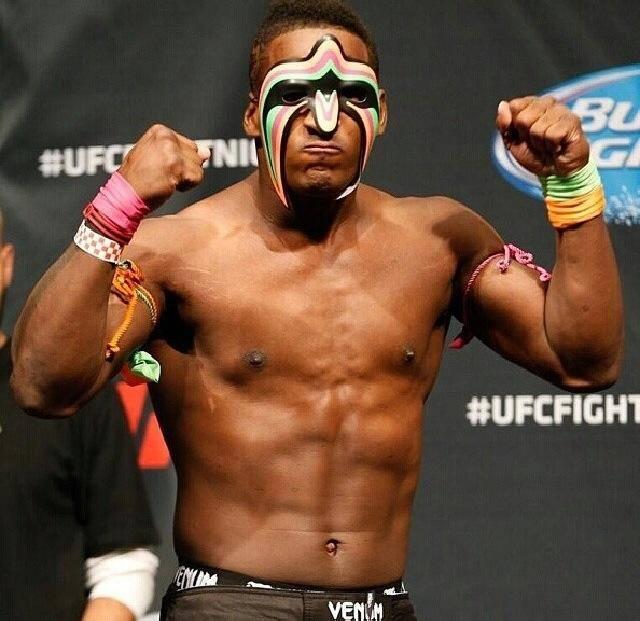 via twitter.com
I apologize, there is one other fight worth your time on this card and that is the co-main event. I think I along with most of the fellas have been on the Larkin bandwagon for a bit just because he is a truly entertaining fighter to watch. His striking techniques are quite outstanding, but his gas tank and wrestling deficiencies have taken a lot of luster off that rising star of his. Fortunately, what we saw in his last fight against John Howard which was his first cut down to welterweight, was a still agile, still powerful striker, who was suddenly giving up a lot less size than he was at middleweight. Welterweight is still, and probably will always be a shark tank of good wrestlers, but I am once again excited to see what Lorenz can do in this division.
Larkin by TKO 2nd round.
Ponzinibbio:
Larkin: unanimous
oooh, thats Eddie GORDO via giantbomb.com
Antonio Carlos Junior vs Eddie Gordon
Two TUF guys go head to head. I know Bobby champions me as our crew's go to TUF Brazil guy, but I had honestly checked out by the time ACJ's season came up. He's won a few fights by submission, then got wrestle-f*cked into oblivion by Patrick Cummins. Gordon has dropped two in a row now, but he comes from a good camp, hits hard, and this card now takes place in the United States.
Gordon by USA.
ACJ: DJ Mark
Gordon: Dr Law, Kid P, Gooms
Thiago Santos vs Steve Bosse
The guy that nearly shattered our parlay when Urijah Hall had a bone sticking out of his foot vs the hockey goon. That's literally the entirety of the analysis I can offer up on this fight. I would say hockey goon by USA, but that really is not a sport this country cares about.
Oh well, hockey goon by it's almost the 4th of July.
Santos: DJ Mark, Gooms
Bosse: Dr Law, Kid P
Hacran Dias vs Levan Makashvili
Hacran Dias fights out of Nova Uñiao. Nova Uñiao is traditionally a good camp. The It's MMAzing crew have heard of Hacran Dias.
Dias by whatever his typical means of victory is.
Dias: unanimous
Makashvili: