This weekend's free fight card comes to you live from the Monterrey Arena in Monterrey, Nuevo Leon, Mexico. Smart people over at Zuffa realized that while definitely wanting to expand their reach into the Mexican market, perhaps it was smarter to not make fighters fight at ridiculous elevations in Mexico City. Originally slated to be Kelvin Gastelum vs The Immortal Matt Brown, the always game Neil Magny steps in on short notice as he tries to get a new winning streak started. Meanwhile, Kelvin Gastelum aims to prove that he can indeed be a professional in the welterweight division. (Editor's note: This article was written before Friday weigh-ins) Oh yeah, and apparently this event is also serving as the stage for the TUF: Latin America 2 finale. We of course here at It's MMAzing did not follow a single minute of that action so we will not bother to BS you any analysis on that front. To the picks!
Kelvin Gastelum v. Neil Magny
In many ways, Magny occupies a similar space as Matt Brown so there should not be much drop off in terms of action and quality here. Both fighters are coming off of wins after experiencing so setbacks in their respective careers. There's no shame in being out-grappled by Demian Maia, but Gastelum's not so subtle push into the middleweight division after a couple of weigh-in fiascos is no minor thing. Ultimately though, I still personally think Gastelum is a prospect of the highest caliber having previously compared him to a mini Cain in the manner he fights. If Kelvin can make weight and show that he's ready to be a true pro at this fight game, then I think he can get right back on track. His lone loss is likely the next title challenger, so that blemish can be easily forgiven with a good showing Saturday night.
Kelvin by RNC after dropping Magny from punches.
Gastelum: Kid P, DJ Mark
Magny: Doc Law
Ricardo Lamas v. Diego Sanchez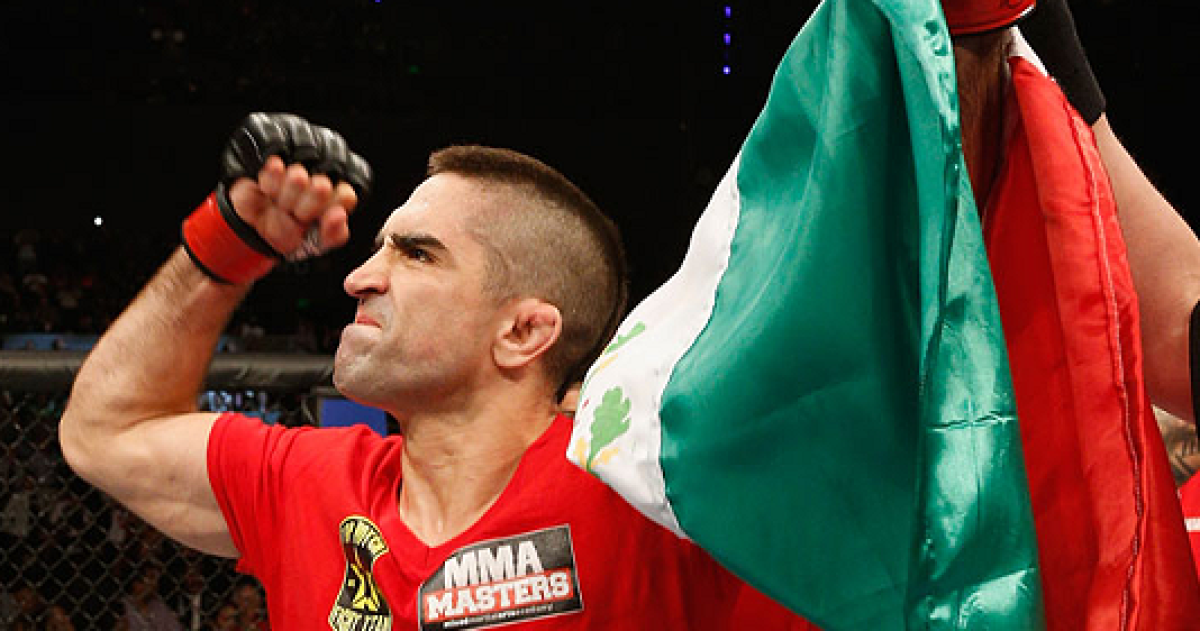 Where did you get that flag Ricardo? (via ufc.com)
Ricardo, I hope you already have your Mexican flag with you when you depart for Monterrey. For shame for having to be IN Mexico City when you got one the first time. Diego will somehow attempt to make featherweight in a last gasp at breathing life into his fight career. I really don't see it going so well. But cheers to you Diego Sanchez, you are THE original Ultimate Fighter, you are the last man standing, but time has passed you by old friend.
Lamas by dismantling jutsu.
Lamas: unanimous
Sanchez:
Henry Cejudo v. Jussier Formiga
via reddit.com
Formiga fights with a facial expression reminiscent of how my face would be if I had to fight world class fighters for a living. That is to say, it doesn't look like he wants to do it. Cejudo on the other hand is riding a positive PR wave having backed Nick Diaz and declaring he would not fight in the state of Nevada. And that's exactly what a typically boring fighter needs to do and gain positive press when they can. This fight is wrestling vs bjj and we've seen this tale many times. I don't expect a finish, and I expect many consecutive minutes spent in guard and half-guard.
Cejudo by 30-27.
Cejudo: unanimous
Formiga:
Efrain Escudero v. Leandro Silva
Hecho en Mexico. This guy SHOULD win right? You would hope so given the venue. Marc and Bob definitely think so. But something just doesn't feel right about picking him, perhaps because like I mentioned on the podcast, I have seen ALL of his losses. I don't remember a lot about Silva, so I'm going here on gut instinct and that gaudy looking record. Silva also made short work of a personal favorite of mine, Pros vs. Joes champ, Charlie Brenneman.
Silva by submission round 1.
Escudero: DJ Mark, Doc Law
Silva: Kid P