Last weekend at UFC 187, we saw what the premiere organization in the young sport of MMA can do when they feel like loading up a card with quality, relevant fights, full of known quantities. This is the opposite side of that coin. The UFC continues its aggressive schedule of the last year or so to churn out another Brazil card. The formula of a single relevant fight at the top with a co-main that could probably top the pre-lims on a quality card carries on. We have two former title challengers clashing, however both have lost some luster coming off a devastating injury, or in one of the participant's case, a multitude of injuries. It may not be the clash of top 10 fighters that it once may have been billed as, but one man has a grand stage to get his career back on the right track.
Carlos Condit vs Thiago Alves
via mmaweekly.com
This is the lone relevant fight on this card, and I don't think it is going to be close. Alves once possessed some of the scariest striking in the division, but then again, so did Carlos Condit. Add in a significant reach and size advantage with all around better footwork and movement, and this is entirely Carlos' fight to lose. One of my lasting memories of Carlos is that he actually doesn't like his nickname of "The Natural Born Killer." He conceded he saw the movie in his teens and just thought it sounded cool, but is kind of lame in hindsight. Fortunately for him, Wikipedia thinks it's apparently verifiable enough for him to have a second nickname.
The Albuquerque Bandit by knockdown to submission.
Condit: unanimous
Alves:
Nik Lentz vs Charles Oliveira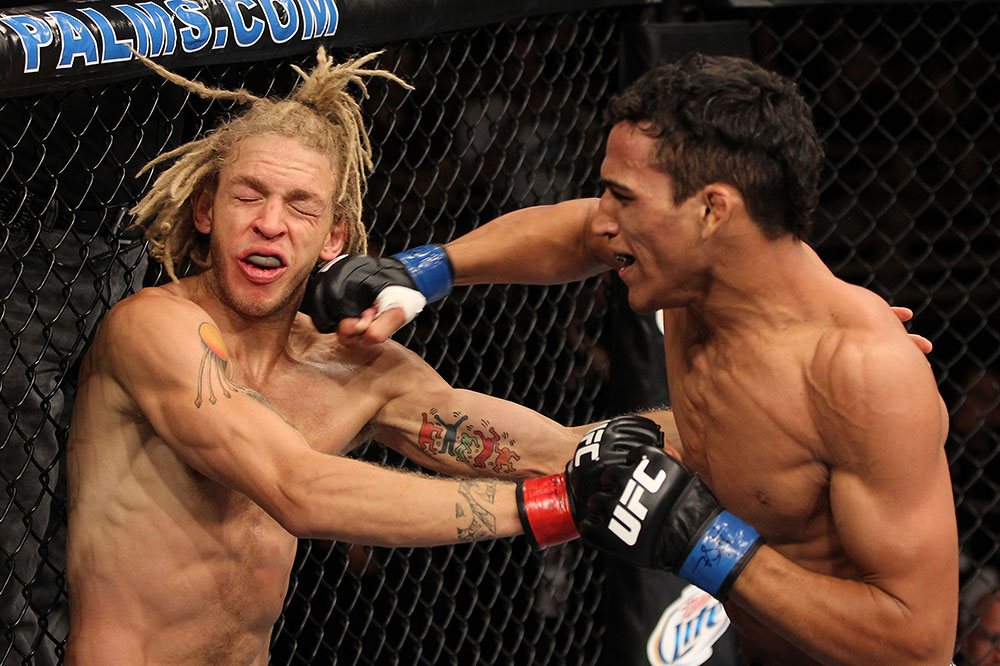 via ufc.com
We finally get the long awaited(these fellas clearly have friends and family) rematch after their first fight ended in a bit of controversy. The histories will show that an illegal knee from Oliveira to a grounded Nik Lentz led to the submission, but in my mind that fight was already way out of hand for Lentz even without the knee. As I said in the podcast, Oliveira may not have lit the world on fire like we first thought he might, but in hind sight each of those losses he picked up were to two possible #1 contenders and a man that was a fight away from contention himself in Cub Swanson. Oliveira still has too many good years left ahead.
Oliveira by choke submission (again.)
Lentz: unanimous
Oliveira:
KJ Noons vs Alex Oliveira
via mtv.com
This is a real case of the known vs the unknown. At this point we know exactly what KJ Noons is. He is a quality fighter if not altogether unspectacular. Noons' UFC run has unfortunately come toward the twilight of his career, but he is still capable enough. Also, KJ's sister was on the first season of America's Best Dance Crew. I'll bet yall didn't know that one. Oliveira number 2 has not had the sample size needed for me to really draw conclusions on yet. Someone need to tell Alex that somebody already called dibs on "Cowboy" in the lightweight division, but when in Brazil... go Brazilian.
Oliveira by home field decision.
Noons: DJ Mark, Gooms
Oliveira: Kid P, Dr Law
Francimar Barroso vs Ryan Jimmo
via mmajunkie.com
This is where Bobby relies most on my TUF Brazil expertise... that is to say I have none. Barroso is about to have his third fight in the UFC and participates in the wasteland that is the light-heavyweight division, yet I cannot recall who he is for the life of me. Jimmo I know. Jimmo can be boring. Or he can just suddenly knock you out. One thing none of us can dispute though, is that man can dance.
Jimmo by something, followed by robot-ing to a sea of Brazilian boos.
Barroso: Dr Law
Jimmo: DJ Mark, Gooms, Kid P
Norman Parke vs Francisco Trinaldo
In a TUF season I largely chose to ignore, has actually emerged a fairly solid prospect in Stormin Norman. In a TUF season I did surprisingly watch was a very Gleison Tibau-ish slab of muscle in Massaranduba. While I called Trinaldo a poor man's Tibau, he's actually quite a bit older than the by some form of blood magic, 31 year old. Such is life that the young will inherit the world from the old.
Parke by KO.
Parke: unanimous
Trinaldo:
Wendell Oliveira vs Darren Till
I can't even make jokes. I have no idea who these people are. I am however, a fan of symmetry. So let's just root for the Oliveira sweep.
Wendell by Brazil.
Oliveira: Dr Law, Gooms, Kid P
Till: DJ Mark