via wikipedia.com
Hello everybody. Your friendly neighborhood Filipino here to bring you the action from the UFC's inaugural trip to my ancestral seat for UFC Fight
Night
Morning 66: Edgar vs Faber. The event will be taking place at the Mall of Asia Arena. For anyone that has never been, the Mall of Asia is a preposterously gigantic mall that is basically three malls. It is so preposterously large in fact, that I had no idea they had an arena in addition. The Philippines are known for many things such as tropical beaches, delicious food, beautiful ladies, an uncanny knack for choreographed dancing, and are additionally rabid fight fans. MMA is still in its embryonic stages in the country, but the passion and excitement for it has long been brewing if the massive crowds that GSP, more so than anything he ever received here in the States, are any indication. The Philippines needs a new hero because their last one participated in the most predictably blah fight of the century just a couple weeks ago. Will someone on this card rise to the task?
Frankie Edgar vs Urijah Faber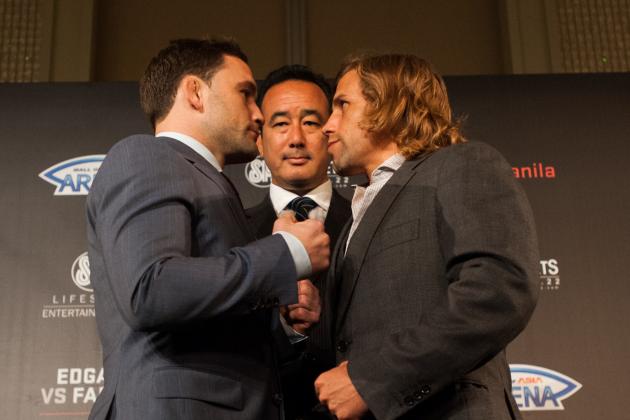 via mmamania.com
Super fight? Maybe, maybe not. When the UFC integrated the WEC into the fold and Frankie Edgar made his improbable run to the lightweight title where a string of defenses, draws, and rematches kept him in the spotlight for some time, I think it was easy for many fans to wonder about this match. Frankie, always seemingly capable of fighting at smaller weight classes, and Urijah, was unquestionably the biggest star at the time for the lighter fighters in the game. We finally get this match up albeit a little late in terms of current relevancy. It should still be a worthy contest though as Frankie in his last couple of fights has shown a further evolution of his game that few show at this stage of their career while Urijah is the perennial championship belt gatekeeper. That said, what is Frankie Edgar if not just a better version of Urijah Faber. Frankie may not have the submission finishing rate that Faber has, but he has excellent speed, boxing, grappling, most recently shown ground and pound, and absolute heart and determination. Frankie's experience fighting in larger divisions coupled with my MMA math analysis of Frankie giving better performances against common opponents leaves me with little thought as to Faber's path to victory here.
Frankie by TKO stoppage 4th round.
Edgar: Unanimous
Faber:
Gegard "He's not chasing his dreams, he's catching them" Mousasi vs Costas Philippou
via twitter.com
I think pretty much all of us here at It's MMAzing would like to see Gegard seriously enter into the title picture. He just hasn't been able to put it all together yet against a top 5 opponent even though all the skills needed are there. So for the time being Gegard sits at that 6 spot waiting for another crack at the 5 while decimating, wrecking, grown man-ing, and since its apparently ok to say in a pg-13 WWE era, curb-stomping the competition behind him in the rankings. Philippou on the other hand, appears to have been nothing more than fool's gold with each successive fight. Probably not so shocking if you take into account his biggest win against Tim Boetsch was the result of two severe fouls that altered the course of the fight. Gegard by
dream catching 1st round.
Mousasi: Unanimous
Philippou:
Luke Barnatt vs Mark Munoz
via mmamania.com
Mark, I want to believe. I really do. You are a really cool dude, a tremendous coach, and when you put it all together, you had some really memorable performances. But look, you haven't landed a punch in 3 fights. You already stated this is your last fight. So go out there, and show something for our ancestral home. Standing in his way will be Luke Barnatt. Not really a world beater, and seemingly lacking in the progress I thought he'd make by now, Barnatt is your classic back end guy capable of a good performance now and then but not expected to rise that high. Incredibly likable though. Go get em Big Slow.
Barnatt by some form of knee to the face on a shooting Munoz.
Barnatt: Jesse the Body, Kid P, Gooms
Munoz: Dr Law, DJ Mark
Hyun Gyu Lim vs Neil Magny
via mmajunkie.com
This is a case where author's slant is going to skew the tale of the tape on this fight and not quite paint the picture of the overall views of the It's MMAzing crew, but I am high on Lim, while not so sold on Magny. Lim has the size, power, and aggression that makes me believe he can crack into the top 10 in due time, and simply be one of the more successful Asian fighters to make it in the UFC. Particularly the aggression is something you see lacking in most of the Japanese fighters who try to make their way here to the US, but the Korean fight camps have seemed to take a page from the modern MMA landscape in prepping their guys. To this point, I have only seen Magny take on a bunch of scrubs, none of them worthy of the video game mind you, while even in defeat, Lim took a definite top 10 caliber opponent in Saffiedine to the bell. He also beat Pascal Krauss. He's in the game.
Lim by decision.
Lim: DJ Mark, Kid P
Magny: Uncle Jesse, Dr Law, Gooms
Yui Chul Nam vs Phillipe Nover
via twitter.com
Our wonderful guest Jesse said it well here, this is the portion of the card where we make the locals happy. Phillipe "The Next Anderson Silva" Nover makes his long awaited (probably by his friends and family right?) return to the UFC. If I can paraphrase King Mo for a moment, "I see you TUF: China, I see you... ya'll trash."
Nover by submission... or tko, does anyone remember what he does?
Nam:
Nover: unanimous
Mark Eddiva vs Levan Makashvili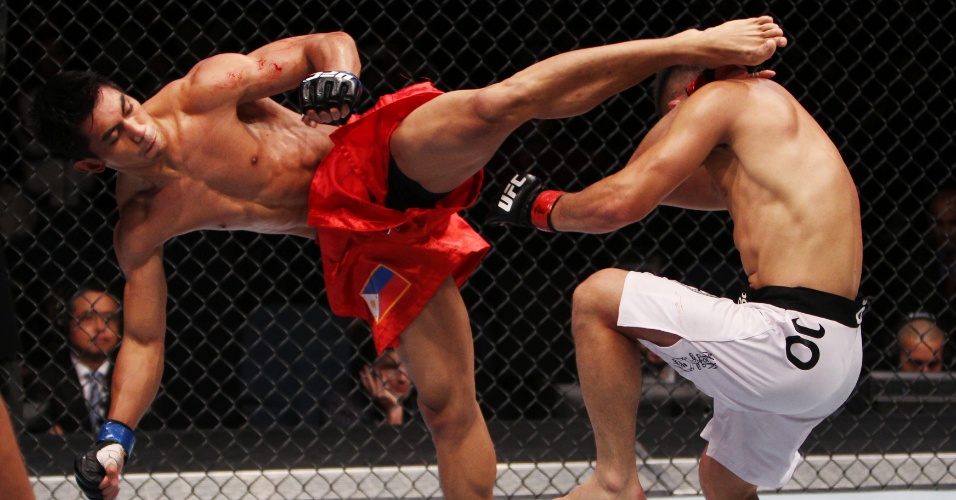 via imguol.com
Eddiva gets the main card kicked off with a Filipino fighter and local fan favorite. Makashvili steps in on short notice for the biggest fight of his career. I don't have a lot on either of these guys, as they are both relatively young in their fight careers, but with identical 6-1 records, only one gets to take a step forward with that shiny "prospect" title accompanying their name. I'll roll with home town hero over short notice sensation.
Eddiva by submission round 2.
Eddiva: The Biggest Little Brother, Kid P, DJ Mark
Makashivili: Gooms, Dr Law