image via www.faniq.com
UFC Featherweight Championship
Kid Presentable: Vitor got a title shot in a division where he had no relevance, and now Chael Sonnen is getting one too. Frankie is coming off of two losses and is entering a new weight class yet I have no problems with this title shot. It has been fairly common knowledge that Frankie could easily drop down in weight and this is without doubt the greatest threat to Aldo's reign atop the division. Frankie has all the tools to make the night long and difficult for Aldo. Frankie is fast, sets up his takedowns really well, and has an endless gas tank. Essentially he is everything Urijah Faber was supposed to be in his fight against Aldo. The problem though is that for all of Frankie's movement he still has a propensity for getting hit. Hard. And often. Even in the second match against Bendo, just because Frankie caught all those leg kicks, doesn't mean that he wasn't just eating them the whole time. Frankie may have gone down in weight, but he hasn't fought anyone that hits like Aldo. Aldo by TKO round 2.
Doctor Law: The Superfight is finally here. Current featherweight champion versus the former lightweight champion. It may not be champion versus champion, but it's still pretty great. I think this is a tough fight to pick. There are so many factors to consider. How will Aldo deal with Frankie's movement? How will Frankie deal with Aldo's leg kicks? How will the weight cut affect Frankie? Will Aldo's time off affect his gas tank? Will Aldo's decision to stupidly pick the Ravens over the 49ers cause us to question his value as a human being? I keep going back and forth on this fight. Ultimately, I do think Frankie will win the championship rounds due to his cardio, but I think it'll be too late after Aldo wins the first 3 rounds. Aldo by decision.
DJ Marc with a "K": This is a really tough fight to pick. It's always hard to judge how a fighter will perform when going to a new weight division. The cut to 145 seems like it'll be an easy one which is very good because Frankie isn't wasting any time in the Featherweight division. Aldo at times has seemed as skilled and talented as any of the other UFC champions but he's also had a few moments where you might question some of his ability and stamina. I think the key to this fight is really going to be who has the better footwork and if Aldo can successfully use leg kicks to slow down Edgar. It's a tough call but I'm picking Aldo here. Aldo by decision.
Lavender Gooms: While it's not Anderson vs. GSP, this right now is the closest thing to a super fight we're going to see for at least the next year most likely. Even during his reign as lightweight champ the critique against Frankie was as man that was easily just walking around at 155 in a division where his competitors were cutting 20 or more pounds that he was too small for the division. People (including myself) were stupidly saying this while he beat a legend twice, defended it three times and arguably won his fight against Bendo. Frankie will be the first true challenge to the throne of the 145 champ. Even dropping a weight class, Edgar should have no problem making weight and maintaining the maddening pace for five rounds that he displayed at 155. On the other hand Aldo has had problems making the weight in the past and has had problems with fatigue in the later rounds and against Edgar…he will get into the later rounds. While Aldo's leg kicks can be a problem for Edgar is he lands enough of them, I think Edgar will be able to stick and move with enough agility to neutralize Aldo's greatest weapon. Tom's River's greatest son becomes two division champion and Sal looks to buy more walkout t-shirts. Edgar by decision.
Picking Aldo: Kid P, Doc Law, DJ Marc
image via www.hurtsbad.com
Doctor Law: Important fight in the light heavyweight division here. Rashad Evans, in my opinion, is the second best light heavyweight on the planet, behind only Jon Jones. Unfortunatley for him, Jon Jones handled Rashad in April. If Rashad doesn't want to move down to middleweight, he's going to need run through at least 3 tough guys to get another shot and Jonny Bones. Lil Nog is one of those tough guys. The younger Nogueira brother hasn't fought since pummeling Tito Ortiz in December 2011. Coming off of knee surgery, I wonder how he will be able to deal with Rashad's movement, explosiveness and takedowns. I think this is a statement fight for Rashad. I see him grounding and pounding his way to victory here. Rashad by 2nd round TKO.
Lavender Gooms: Rashad is if not the second best light heavyweight in the world, is in the top three. Unfortunately for him, the top dog at 205 is Jon Jones, who pasted him last year. While no one is exactly clamoring to see him fight Jones again,

perhaps there's another belt he could be fighting for on the horizon

. I don't get the rationale for giving him a fight against Little Nog. Besides the fact he's the twin brother of his much better brother, he's 1-2 in his last three fights and his last fight was over a year ago. Besides having a big name, Rashad should be favored heavily in this fight. "Suga" will get control with his wrestling and land enough shots to earn a decision. Rashard by Unanimous decision.
Kid Presentable: Lil Nog is coming off an incredibly long layoff from fighting, and conditioning tends to always be a problem for guys when this happens. That is not an issue you want to have when you are going against one of the top wrestlers in the sport. Nog will always have good hands though and I am sure he will crack Rashad at some point in this fight. All that head movement never seems to stop Rashad from getting wobbled at least once a fight. This of course will lead to Rashad putting Nog on his back much the way Bader and Phil Davis (eventually anyways...) did and of course there is zero chance of Rashad landing a sub on Nog. Rashad by unanimous decision.
DJ Marc with a "K": In my head I want to think that this could be a really competitive fight but seeing how Bader and Davis both got the better of Lil Nog it's really tough to pick against Evans in this one. I think Lil Nog could cause Rashad some problems standing if they were to just stand with each other but I think a much more likely scenario is Rashad throws a couple of punches and shoots for the takedown. I think Rashad will control the fight and if he sees an opportunity he'll jump on it but for the most part he'll be content with a controlling decision victory. Rashad by decision.
Picking Evans: Unanimous, like Rashad's decision will be.
image via www.coolmmavideos.com
Lavender Gooms: Overeem is a behemoth of a man. If you go to a party with your girlfriend and Overeem is there he's smacking you and taking your girl and you can't say anything about it.

This man looks like a Dragon Ball character come to life.

Assuming that Reem isn't dumb enough to get caught juicing or running from a piss test again or having a testosterone ratio not seen in nature he will run roughshod over Big Foot and get the next shot at Cain. The only slight chance that Silva has is if he somehow gets top position and starts dropping those meat hammers. This will be a quick fight. Guys, hide your girlfriends. Reem by 1st round TKO.
DJ Marc with a "K": The Reem is pretty much the one guy I ride and die with (that's a fancy way of saying I'll always pick him to win). Bigfoot like most heavyweights has the power to shut down the industrial machine that is The Reem but that seems like the less likely way this fight is going down. I see this one standing for a second, then in the clinch, some hard knees and a Ground and Pound finish. I wouldn't be too surprised if this one goes to the second or maybe even the third round but I see this one ending fast. Reem by body shot then GnP 3:11 in the first round.
Doctor Law: "Alistair Overeem is a Dutch kickboxer who looks like someone at Marvel comics drew a man genetically engineered to f*ck your girlfriend." Props to Seanbaby at Cracked for that one. (Sidenote: be sure to read the entire article). Ubereem is back…and he's here to wreck shop. The stakes are high for this one. If Overeem gets passed Big Foot, he gets a shot at the title. Big Foot has been talking a lot of smack leading up to this fight; saying that Alistair was built in a lab and how his a natural athlete himself. Big Foot apparently doesn't think the internet exists or that people don't remember stuff that happened 5 years ago because he pissed hot in July 2008. Regardless, if Big Foot wants to win, he has to get on top of Alistair and start dropping bombs. I don't see that happening. Overeem by 1st round TKO.
Kid Presentable: I am so happy the Reem is back. According to the world of gifs this man lifts Japanese girls, knees a domino line of businessmen, kicks little girls holding pads to the ground, and man handles and tosses a reporter like a rag doll. This guy should be an easy sell in the UFC simply cause he is a devastating striker and he looks like someone out of a comic book. Bigfoot biggest strength in any fight is simply that he is big, but that will never mean much against the fellow mammoth man that is the Reem. Reem will probably devastate Bigfoot standing, but here is to hoping he is smart and ends the fight with a liver kick a la his Brock fight. We all know what happens when you try to punch Bigfoot in the face... Reem by first round body shot KO.
Picking Reem: Could there be any other choice?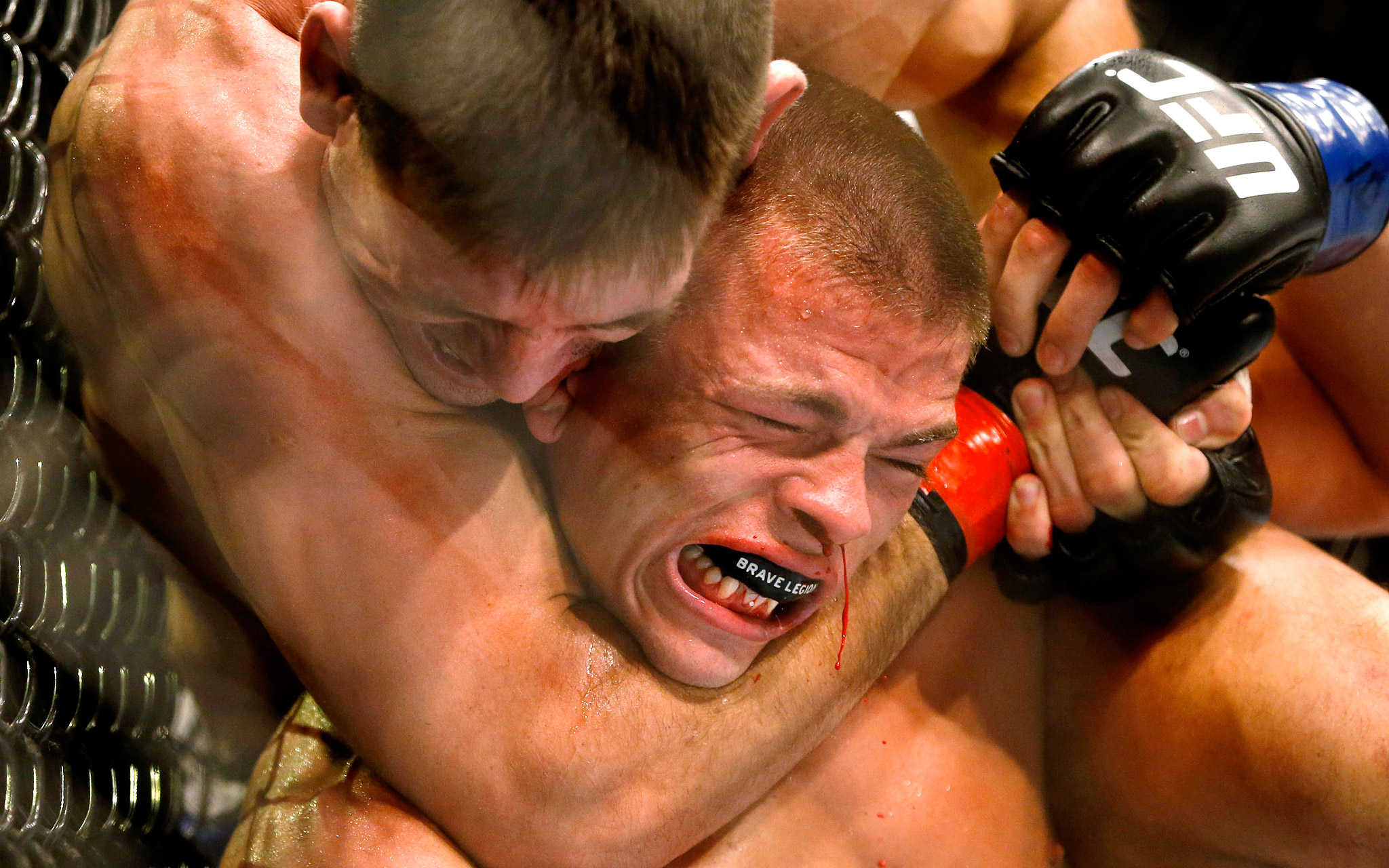 image via espn.com
DJ Marc with a "K": This could be a really awesome entertaining fight or kind of borefest. If the fight goes to the ground we could have a real barn burner on our hands, if it stays standing it could be a bit lack luster. Personally, I think it's going to the ground and I think Fitch is going to get caught. As seen on the countdown show Fitch has "let" guys catch him in submissions before. If this happens with Maia, that's scene. I just saw Maia squeeze the liquid out of Story's head, we might see that again. Maia submission Rear Naked Choke 2nd round 2:57.
Doctor Law: Awesome grappling battle or crappy boxing match. Hopefully the former takes place. Damian Maia has look like an absolute monster so far at welterweight. This fight with Jon Fitch is, however, a big step up in competition. Maia appears to have reverted more to his grappling roots, but Jon Fitch is basically unchokeable. That being said, Fitch is starting to annoy me on twitter with is crazy anti-gun control theories (i.e. Gun Control = pro-Hitler). Also, I need to ride or die with Damian Maia, especially now that times are good. Maia by 2nd round submission.
Kid Presentable: Any one who has ever spoken to me about Fitch knows how much I really want to like him so much. His last performance against Erik Silva had me on full board as well. Now I must preface that normally I can separate sports and politics without any problem whatsoever, but in light of Fitch's recent series of tweets on gun control I cannot feel anything but simple disappointment. It's your freedom to believe those things just as it my freedom to hope you get submitted in a fight because you think those things. Maia by RNC 2nd round.
Lavender Gooms: Prepare yourselves boys and girls. I'm about to say something I thought I would never say. I'm excited for a fight involving Jon Fitch. Maia is a savant on the ground when it comes to Brazilian Jiu Jitsu and normally a wrestler would have to tread EXTREMELY carefully if he though about taking him down. But Fitch is a different kind of animal. He has very good takedown defense so won't spend a lot of time on his back and is also very hard to submit. I may be setting myself up for disappointment, but this fight will be similar to Fitch's last fight against Erik Silva, an exciting ground match with Fitch utilizing his grinding style to get the upper hand. Hell, I'm even going to say that Fitch finishes Maia. Fitch by TKO in 3rd round.
Picking Maia: DJ Marc, Doc Law, Kid P
image via sbnation.com
Doctor Law: Flyweight is seriously lacking legitimate contenders at this point. Both of these men have recently lost to Demetrious Johnson, the 125lb champion. It may seem too soon for a rematch, but honestly, who else is there? This is a matchup of two fantastic fighters. Both have shown to be at the top of this division. I do think that Benavidez is better than Ian McCall in basically all facets of the matchup. McCall is tough though, so I don't see Joe-be-won finishing him. Besides the main event, this will probably be the Fight of the Night. Joe-kozuna by decision.
Kid Presentable: For anyone who has ever played the UFC video games, you know that there is a point in the career mode where once you are champion, you just kind of keep fighting the same 3-5 guys the rest of your career. That is what the flyweight division is. Does it seem like Joe B and Uncle Creepy just fought Mighty Mouse? Well don't look now, but it is about to happen again real soon. Where those two fights had these guys chasing a fast guy around, the skill sets should be much more even in this fight. Joe B was a monster at 135 and was really expected to own this division since he made the cut with no problems, but I want to believe that McCall who was long considered the top flyweight before the UFC added this division will have something to prove. McCall by decision.
Lavender Gooms: So I guess this is a contender fight? I like Joe B and Uncle Creepy. They are both excellent flyweights and I have absolutely nothing against them. But I think neither of these guys has a shot of beating Mighty Mouse (I'm the unofficial conductor of the John Dodson Magician Express..Cho Cho bitches!). McCall has the better technique when it comes to his stand up but I like the athleticism and wrestling that the Team Alpha Male product is bringing to the table. Benavidez by submission in 2nd round.
DJ Marc with a "K": This should be a decent scrap, but the way I really see this fight is for second and third place in the original Flyweight tournament. I was originally maybe picking McCall here but I think I'm going to play it safe and go with Benavidez here. Tough fight to call but I just think Ben's a little better in every aspect of the fight. Ben by decision.
Picking Benavidez: Doc Law, Gooms, DJ marc