Do you remember the seminal moment that was UFC 100? Because the UFC sure hopes you do. It is late 2016 and TUF 9 and the Revolutionary War never ended. Looks like we're going to run back "the punch heard 'round the world." How perfect the stage has set up that Michael Bisping, the unexpected king, would have such an unusual and unexpected first title defense. Words like "deserving" or "next in line" get thrown in this scenario, but it is tough to find too many people who aren't top 5 middleweights themselves who it seems to matter to one bit. When you're an absolute legend of the sport, and you feature in one of the all time highlights against said champion, curiosity usually prevails because we want to see it again. Will Hendo truly retire even in victory? Will he only come out of retirement to specifically haunt Bisping? Only time will tell. Stipe brought the reverse hometown curse to an end, but can Hendo help light it back up? Meanwhile, contenders will also rise in the MW, LHW, and HW scenes respectively.
UFC Middleweight Championship
Your new champ ladies and gentlemen? @danhendo
Michael Bisping (c) vs Dan Henderson
2016 has been a long and strange year thus far in title pictures. Saying there have been a lot of upsets and titles changing hands would be quite the understatement. Fitting then that a 46 year old man is going to take his proverbial and quite literal swing at it. I'll admit to perennially underrating Michael Bisping, and that is largely due to finding him so unlikeable. But our amigo from the podcast Marc is right on two counts, he's been playing the heel for years intentionally, so why can't I get on board with that? But more importantly, he has been a deeply talented fighter the entirety of his career. None of his losses came to fighters who were not of legit quality, and he'll also not let you forget that his losses have also come to men who may have had questionable "blends" in their system looking back. Look, do I think USADA has had the rest of the fighters finally come back down to Bisping's level? Sure. Do I think Bisping is the less shop-worn, well conditioned, and better all around fighter? Absolutely. Am I picking Dan Henderson cause of American exceptionalism nonsense and that ridiculous back elbow KO of Hector Lombard? You RED, WHITE, and BLUELIEVE IT!
Hendo by KO punch + unnecessary follow up punch.
The Count: Doc Law, Gooms, DJ Mark
Hollywood: Kid P
Vitor Belfort vs Gegard Mousasi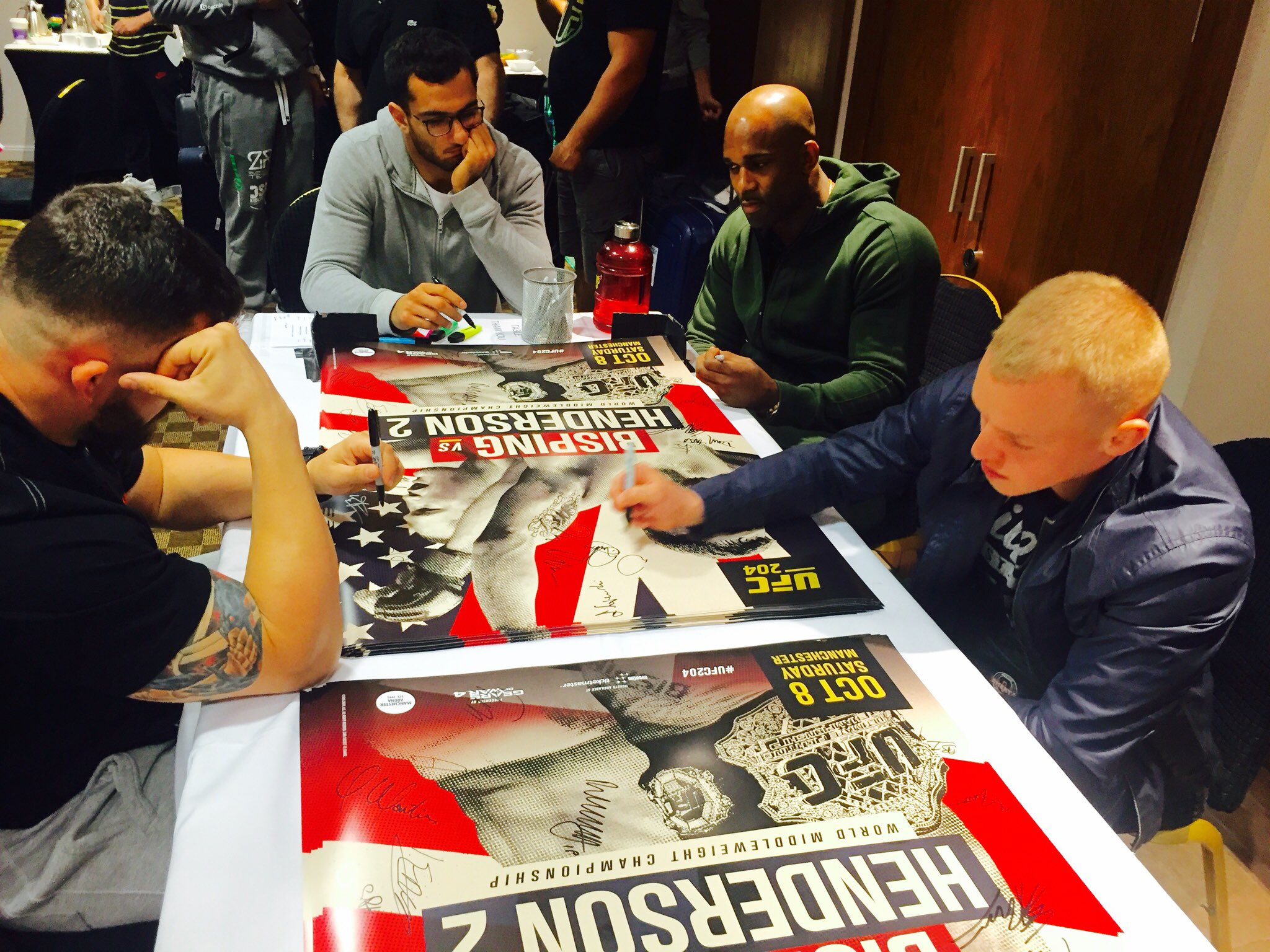 Yes, so much fun @mousasi_mma
Gegard Mousasi has one of the most boring and dry fight personas, and I absolutely love it. He's the only man I've seen had a championship belt slowly grinded away from him, whilst looking utterly bored in the process. While it sounds like I am knocking him, that blank stare hides the technical killer that he can be when it all it comes together. Mousasi has run a little hot and cold in the UFC but the skill is definitely there. Belfort is trending down, particularly in a post TRT world, but you can't deny that for at least a couple minutes, he's as dangerous of a man as it gets in the sport. The name of the game is surviving the storm for Gegard, and using more precise and quick strikes to neutralize the big hooks and spinning kicks of Belfort. He wants the highlight KO, so Gegard will have to make him pay for such aggression. Can Gegard be caught? Well, just ask Uriah Hall about that. But here's to hoping he won't.
Mousasi by late TKO stoppage.
The Phenom:
Sweet N' Sassy: Whole squad on that real ish
Ovince Saint Preux vs Jimi Manuwa
@003_osp
OSP is the raw athlete who COULD be one of the best fighters in the division, and Manuwa is the guy who has only lost to two of the cream of the division. It is a bit disrespectful to his record, but at the same time I can't help but shake that the gap between the top 5 and the back 5 of the top 10 is Grand Canyon lengthy. Jimi could club OSP real fast and call it a night, but so could OSP in return. Adding in a wrestling game that may be lacking in technique, and instead reliant on brute strength and athleticism, combined with an unorthodox submission game, OSP really has more avenues to victory here. I also give credit to him because even in a fairly one-sided affair with Jon Jones, he still ultimately took that fight on short notice and made it to the final bell. If you can stand for 25 with Mr. Jones, then I think you can more than handle 15 with Mr. Jimi.
OSP by some funky stuff 2nd round.
The Volunteer: You can't stop a man who fights out of an old church
Poster Boy:
Stefan Struve vs Daniel Omielanczuk
When you're too tall for the cameras @stefan_struve
If you're wanting me to break this one down technically, I can't offer up much. We all know the story on Struve. We're going to test his ability to use his range and accumulate enough strikes for a TKO stoppage, or Struve is going to eat a fist in epic fashion and collapse into a 7-foot heap of humanity. I vote for the former though because I thin Struve is the better fighter, with the higher profile fight record, and I don't like trying to spell the other guy's name. Does it help that Struve has a damn fine first name like myself? It definitely doesn't hurt.
Struve by KO round 1.
Skyscraper: Everyone loves Stefan
Damn that's hard to spell:
Iuri Alcantara vs Brad Pickett
Got one left in ya? @one_punch
We said it on the podcast. Alcantara is just that younger, more left in the tank, more avenues to victory fighter here. Pickett is right at the age of being done, if this one isn't it for sure, and I would love to see him score the upset win for the home crowd. However, I already made one emotional pick at the top, so I am going to hedge my bets in favor of logic at the bottom. The crowd should invigorate One Punch Man and I expect nothing less than an action fight here. Ultimately I see Alcantara just being a little quicker to the punch and offering up a more diverse range of offense, possibly stifling Pickett's aggression with takedowns and working the ground game to a submission finish or decision.
Alcantara by sadness inducing decision.
AKA Yuri: Kid P, DJ Mark, Gooms
One Punch Man: Doc Law
It's MMAzing 2016 Standings (as of 10/7/16)
1. Doctor Law - (101-61) - .623
2. Kid Presentable - (100-62) - .617
3. DJ Mark - (96-66) - .592
3. Lavender Gooms - (96-66) - .592